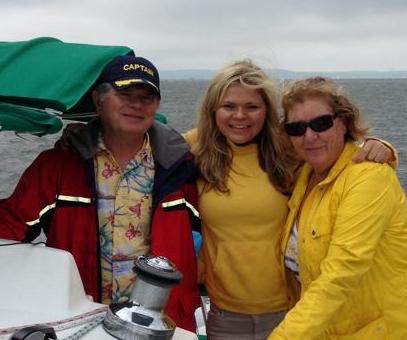 Rob Wagner Charters is a family owned business. My wife, Liz, was born in County Kildare, Ireland, hence the Irish connection.  As a young woman she decided to see the world and was in Sydney, Australia where we met.  Siobhan, our daughter, and her husband live and work in London, England.  Our family is scattered around the globe, which makes us a very much international family.  But one thing that brings us together is our love of sailing.  We brought Siobhan out on our Hobie Cat when she was only 2 weeks old.  Siobhan is as much at home on the water as her dad.
About Captain Rob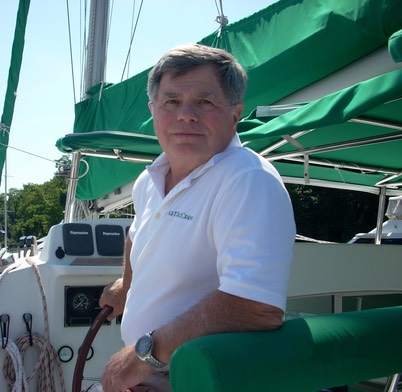 USCG Captain, Master

ASA Sailing Instructor

Over 50 years sailing experience

Education: BS Mechanical Engineering, University of South Florida

40 years as a Mechanical Engineer
Experience: Sailing regattas: crew, skipper and race officer; sailing lessons
Decorated Vietnam Veteran

Member of US Sailing

Member of North American Hobie Class Association

Member of American Sailing Association
Bio:
I built my first sailboat at the age of 12. It was built from scrap plywood and lumber from a church that was being built next door in Tampa, Florida. It was a crude flat bottom boat with leeboards. The sail was a lateen rig that was made from saplings and old bed sheets. It sailed like a tub, but it gave me hours of enjoyment cruising in a small pond located at the back of our house. After years of renting or sailing on friends boats I bought my first Hobie Cat in 1981. Like many others I wanted a sailboat that could go fast. A Hobie Cat fit the need. Soon I was competing in regattas on Hobie Cats and J-24s, which lead to acting as a race officer and organizing regattas. In 2010 I decided to settle down and I bought the Alana McCree in Tortola and brought her to Delaware. I originally kept the Alana McCree in Cape May, New Jersey.  Then we moved her to Summit North (9 miles from my house) which seems to be a perfect spot, as I could choose to sail the Chesapeake or head down and out Delaware Bay and do a little ocean sailing. In 2014 we decided to enter the cruising business in the Annapolis area.